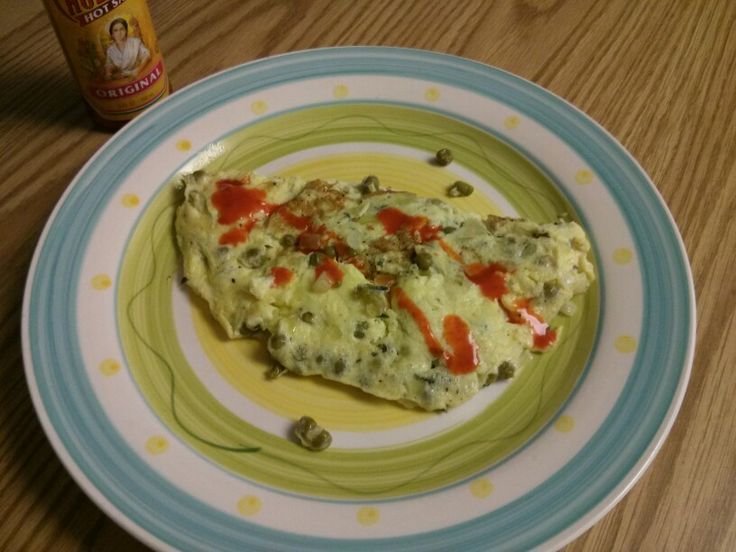 Sweet Pea Omelette
I have been eating this Sweet Pea Omelette dish since I was little. Peas add a little sweetness, hot sauce adds a little spice... Truly delicious!
Ingredients
4-6 Eggs (2-3 per serving)
2 tbs Shallot, chopped
1 cup of Sweet Peas, canned
2 splashes of Milk
3 tbs of Butter
Salt & Pepper, to taste
Couple splashes of Hot Sauce (optional)
Instructions
Mise en place
Crack the eggs into a mixing bowl with splash of milk, a pinch of salt and pepper. Beat well with whisk or a fork.
Chop shallots.
Portion peas and butter.
Cook omelette
In a large non-stick frying pan on medium heat, add 3 tbs butter, shallots & peas and saute for 3-4 minutes. You are basically trying to heat the peas and soften the shallots.
Lower heat to medium-low, add egg mixture and move the pan around to spread them out evenly.
When the omelette begins to firm up, but still has a little soft egg on top, ease around the edge of the omelette with a spatula to make sure it is not stuck to the pan, then transfer omelette to a large plate and flip back to the pan with soft side down.
When it starts to turn golden brown underneath, remove from the heat and slide the omelette onto a plate.
Cut in half and top with several splashes of your favorite hot sauce.
Enjoy!
Notes
Inspired by the dish my Abuela Mima used to make often.
More Sweet Pea Omelette Pics