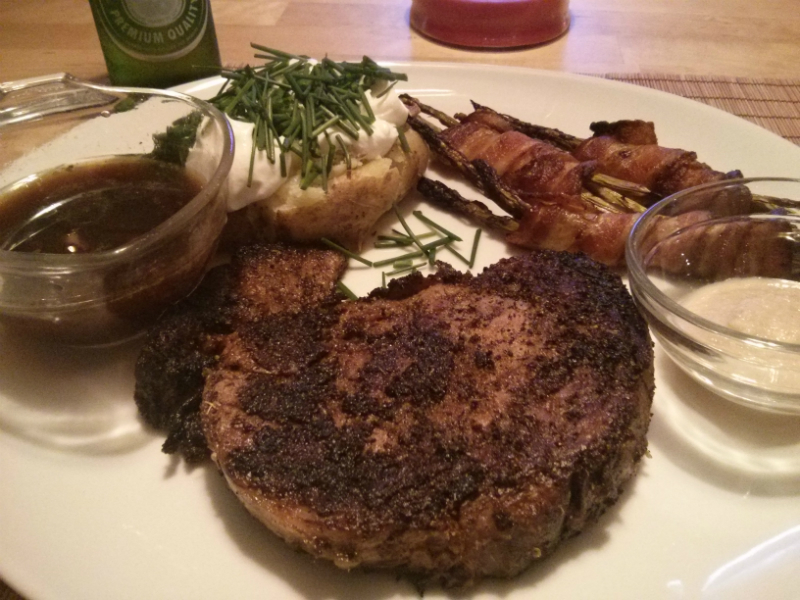 Blackened Prime Rib
Blackened Prime Rib is made by using the Blackening cooking technique. Slice a generous serving of previously roasted Prime Rib, dip it in melted butter, dredge it in a mixture of herbs and spices and then cook it in a very hot cast-iron skillet. Serve it with some au jus, horseradish sauce and your favorite sides.
Ingredients
2½ tsp Salt (I like to use either Sea Salt or Kosher)
1 tbs Paprika
1 tsp Garlic Powder
1 tsp Onion Powder
1 tsp Cayenne Pepper
¾ tsp ground Black Pepper
¾ tsp ground White Pepper
½ tsp dried Thyme leaves
½ tsp dried Basil leaves
½ tsp dried Oregano leaves
Meat
Generous slice of Prime Rib, previously roasted somewhere around medium-rare to medium and allowed to come to room temperature
Butter, melted
Extras
Instructions
Combine the salt, paprika, garlic powder, onion powder, cayenne pepper, black pepper, white pepper, basil, thyme and oregano in a bowl until evenly mixed.
Slice a generous piece of Prime Rib and let it come to room temperature.
Dip the Prime Rib in melted butter and then into this mix and set aside.
Heat skillet so that it is very hot.
Fry steak in white-hot skillet till outside is crispy.
Let rest for 5 minutes.
Serve with Au jus, horseradish sauce and your favorite sides.
Notes
Inspired by by those blackened dishes I enjoyed at Fat Jacques Cajun Cafe back in the mid 1980's.
More Blackened Prime Rib Pics