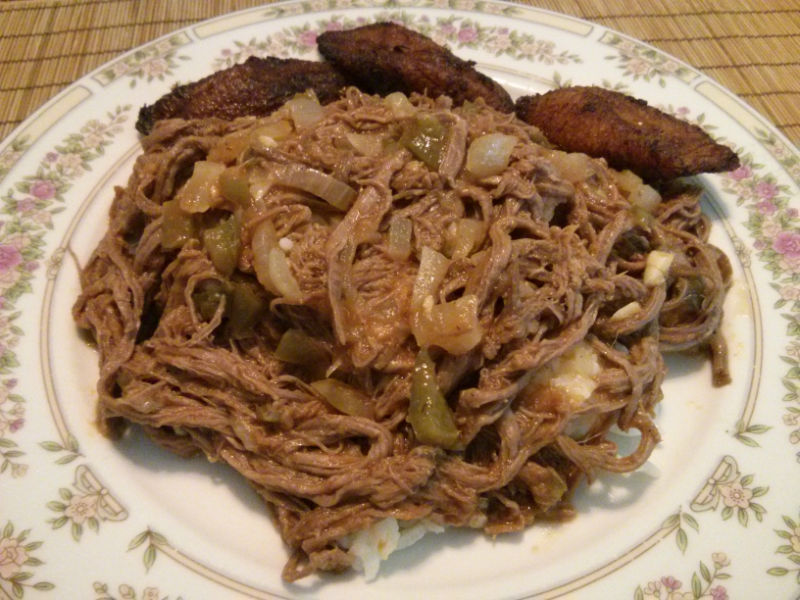 Ropa Vieja (Cuban Shredded Beef Stew)
Ropa Vieja (Cuban Shredded Beef Stew) is a very popular Cuban meat stew that is traditionally served with white rice. Many say the dish originated in the Canary Islands (where one of my Abuelas was from) and literally means "old clothes".

Wanna little twist? Put some Ropa Vieja on a few tortillas with a little shredded lettuce and fresh cilantro. YUM!!
Recipe type:
Soups, Stews & Chilis, Meats
Ingredients
Meat
2 lbs Flank Steak
Water (enough to cover meat in pot)
1 Bay Leaf
Salt & Pepper, to taste
Sauce
3 tbs Olive Oil
1 Onion, finely chopped
½ Green pepper, finely chopped
4 cloves Garlic, minced
½ tsp Oregano, dried
¼ tsp Cumin, ground
1 Bay Leaf
¼ tsp Sugar
1 small (8 oz) can Tomato Sauce
1 small (6 oz) can Tomato Paste
2 cups Beef Broth (from cooked meat)
¼ cup Burgundy Wine or other dry red wine
Dash of Hot Sauce (optional)
Other ingredients
Instructions
Tenderize & shred meat
In a soup kettle or large pot, cover meat with water, add 1 bay leaf, salt and pepper.
Bring to a rapid boil and skim to remove froth several times.
Lower heat and cook meat until tender (approximately 1 hour).
Alternate Method - Use a pressure cooker to cook meat 35 to 40 minutes at 10 pounds of pressure.
Allow meat to cool in stock, then remove to platter and shred, removing any remaining fat.
Strain cooled stock and reserve 2 cups for sauce; save the remainder for future use.
Mise en place
Chop onion and green pepper.
Mince garlic.
Portion olive oil, burgundy wine, beef broth, oregano, cumin, bay leaf, sugar.
Open cans of tomato sauce and tomato paste.
Cook sauce & add meat
In a large pot, heat olive oil and add onion, green pepper and garlic. Saute till soft but not brown.
Add remaining bay leaf, oregano and cumin; cook 5 minutes.
Add tomato sauce, tomato paste, sugar, broth from meat, wine, salt and pepper. Stir and bring to a boil.
Add shredded beef, continuing to stir.
Lower heat, cover and simmer 30 to 40 minutes, stirring occasionally, until sauce cooks down and thickens.
Add a dash of hot sauce, if desired.
Serve hot over white rice.
Notes
Inspired by my Abuela Cusa's Ropa Vieja
More Ropa Vieja (Cuban Shredded Beef Stew) Pics