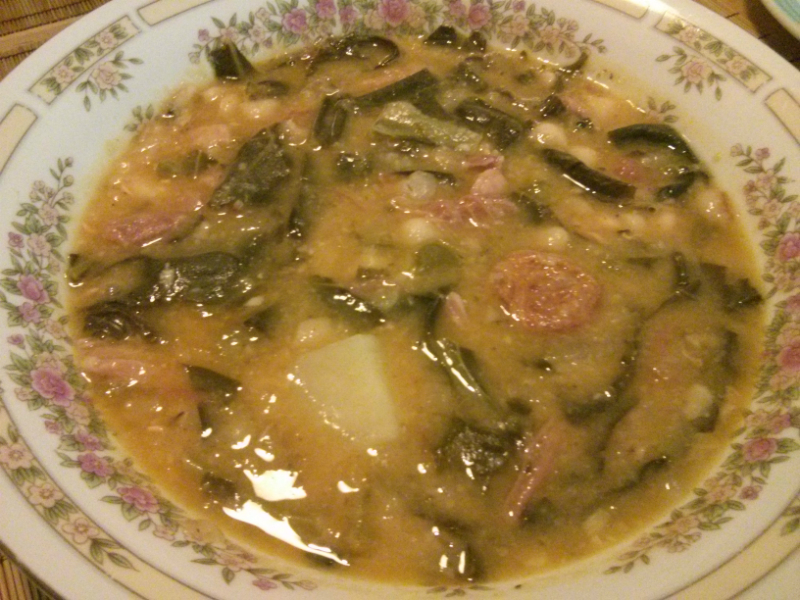 Cuban Caldo Gallego
Cuban Caldo Gallego Soup is delicious and healthy... Serve it with some Cuban bread and enjoy!
Recipe type:
Soups, Stews & Chilis
Ingredients
1 lb Great Northern Beans, dried
1 tbs Salt, to soak beans
1 large Onion, chopped
½ large Green Pepper, chopped
4-5 cloves of Garlic, minced
2 Spanish Chorizo, sliced thick
1 Ham bone
1 lb Ham, pre-cooked and cubed
8 cups Water
2 tbs Olive Oil
¼ cup Tomato Sauce
¼ cup Turnip, chopped
1 large Potato, peeled and quartered
1 lb bag of Collard Greens, chopped
¼ tsp Paprika
¼ tsp Oregano
¼ tsp Basil
2 Bay Leaves
Salt & Pepper, to taste
Instructions
Soak the beans
Rinse white beans.
Soak overnight with 1 tbs salt in enough water to cover beans.
Drain the salted water from the beans.
Next day - Start cooking beans with ham bone
Place beans in 4-quart soup pot; add 8 cups of water and the ham bone.
Bring to a boil, then reduce heat to low and cook for 1½ hours, skimming foam from the top.
At the 1½ hour mark, remove the bone and if there is any meat on it, cut it off and set aside.
Mise en place - during the 1½ hours of cooking beans with ham bone
Chop onion, green pepper, turnip and collard greens.
Mince garlic.
Slice chorizo.
Cube ham, peel & quarter potatoes.
Portion olive oil, tomato sauce, paprika, oregano, basil, bay leaves.
Put it all together
In a skillet, pre-heat 2 tbs of olive oil over medium high heat (making sure not to burn oil).
Add onion, green pepper, salt and pepper, saute lightly for about 4 - 6 minutes, stirring frequently.
Add cubed ham (plus any off the bone), tomato sauce, paprika, oregano, basil and garlic, cook for about 2 - 3 minutes, stirring frequently.
Add ham & sofrito mixture to beans along with and bay leaves. Stir well.
Add turnips and chorizo. Stir well.
Add collard greens, folding them into soup as they soften. Stir well.
Add potatoes. Stir well.
Add salt to taste and cook on low for about another 1½ hours. Stir occasionally.
When beans, potatoes and collard greens are tender, remove from heat.
Serve hot in deep soup bowls with buttered, crusty Cuban bread on the side for dipping.
Notes
You can add some more water if the soup gets too thick after it cooks a while.

Inspired by: The dish one of my Abuelas used to make quite often.

Last edited: 02/02/2021
More Cuban Caldo Gallego Soup (Galician White Bean Stew) Pics