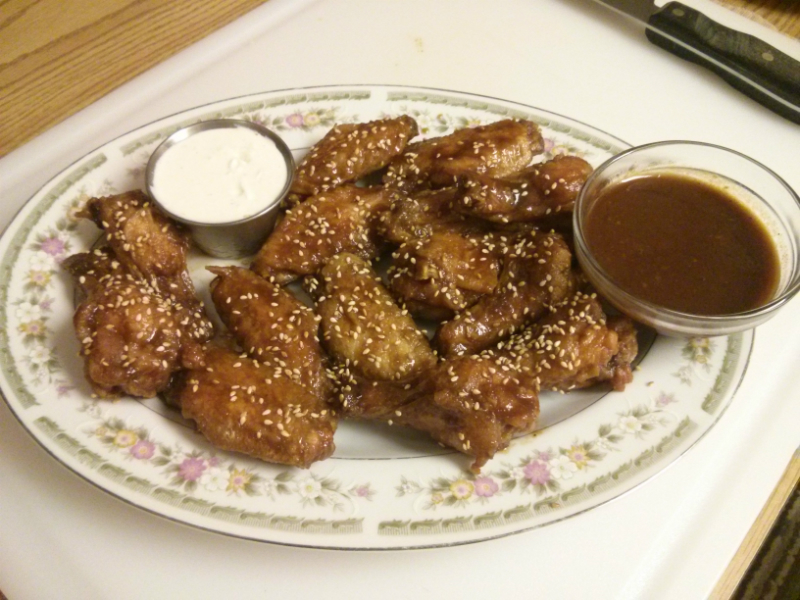 Hoisin Chicken Wings
Hoisin Chicken Wings make a deliciously sweet, salty, spicy, finger lickin' good, Asian-styled appetizer that you can serve at your next party. They go great with a side of Blue Cheese or some extra dipping sauce.
Recipe type:
Appetizers & Tapas, Meats
Ingredients
Sauce
1 cup Chicken Broth
4 cloves Garlic, coarsely chopped
¼ cup Hoisin Sauce
1 tbs Ginger, ground OR 2 tbs Ginger, fresh & chopped
1½ tbs Soy Sauce
1½ tbs Teriyaki Sauce
1 tbs Chili Sauce
1 tbs Honey
¼ tbs Black Pepper
½ tsp Five Spice Powder
Wings
12 whole Chicken Wings, separated at the joint and tips discarded
Vegetable Oil (for frying)
1 tbs Sesame Seeds, toasted
Other ingredients
Instructions
Mise en place
Separate wings.
Portion chicken broth, hoisin sauce, soy sauce, teriyaki sauce, chili sauce, honey, ginger, black pepper and five spice powder.
Chop garlic and set aside.
Toast sesame seeds and set aside.
Make blue cheese, if necessary.
Make sauce
Using a blender, puree the chicken broth, garlic, ginger, hoisin sauce, soy sauce, teriyaki sauce, chili sauce, honey, five spice powder and pepper. Transfer to a small saucepan and bring to a boil. Lower the heat and simmer, stirring occasionally, until thickened, about 15 minutes. Cover and keep warm over low heat.
Fry and sauce wings
Heat oil in a deep fryer to 375 degrees F. Make sure you have enough oil to cover the wings entirely.
Fry wings for 10 to 15 minutes or until some parts of the wings begin to turn dark brown.
When wings are done, toss wings in the hoisin sauce mixture to coat.
Sprinkle with sesame seeds and serve with blue cheese.
More Hoisin Chicken Wings Pics