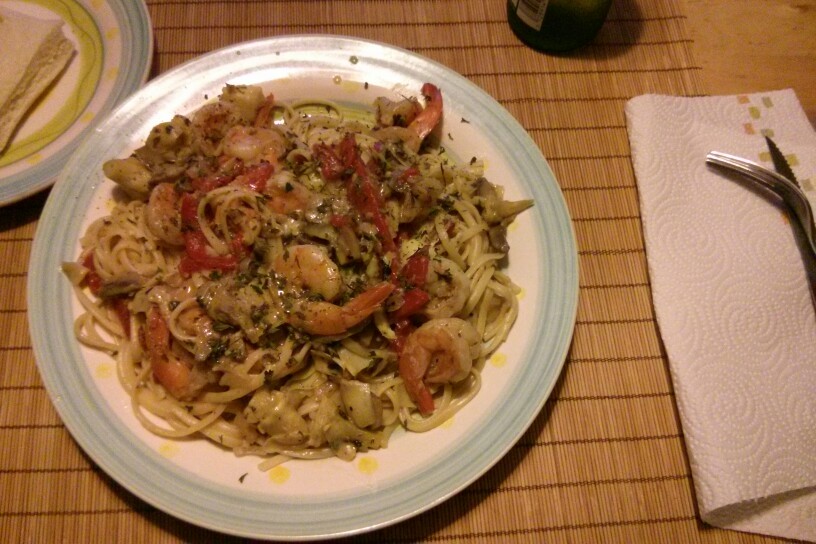 Shrimp & Artichoke Linguine
Shrimp & Artichoke Linguine is a light and delicious pasta dish for all of those shrimp lovers out there.
Recipe type:
Pasta, Seafood
Ingredients
1 lb large Shrimp, peeled leaving tails on & de-veined
½ cup Onion, diced
2 cloves Garlic, minced
12 small Artichoke Hearts, halved
½ Roasted Red Pepper, sliced thin
1 tbs Olive Oil
¼ cup Butter (1/2 stick)
⅛ tsp Parsley, dried
⅛ tsp Oregano, dried
⅛ tsp Basil, dried
⅛ tsp Paprika
Salt & Pepper, to taste
Linguine, enough for 2 servings
Instructions
Mise en place
Peel and devein shrimp.
Slice artichokes & red pepper, dice onions and mince garlic.
Portion olive oil, butter, parsley, oregano, basil, paprika.
Pasta
Cook the pasta according to the package directions.
Reserve ½ cup of the cooking water.
Drain the pasta and return it to the pot with 2 tbs of butter.
Toss and cover off the heat.
Put it all together
Heat 1 tbs of olive oil in the skillet over medium-high heat.
Add onions, shrimp, salt, black pepper and cook, stirring frequently, until shrimp are opaque throughout and onions are tender, 4 to 6 minutes.
Add the artichoke hearts, roasted red pepper and 2 tbs of butter to the shrimp, sprinkle in parsley, oregano, paprika, basil and cook, gently stirring, until heated through, 1 to 2 minutes.
Add the shrimp/veggie mixture and reserved cooking water to the pasta and cook over medium heat, tossing, until slightly thickened, 1 to 2 minutes.
Serve hot with crusty bread on the side.