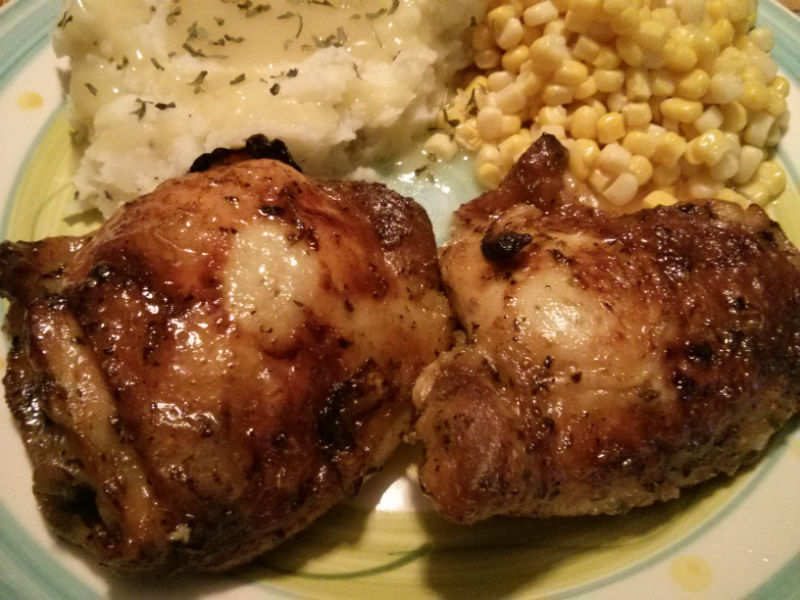 Pollo Asado (Mojo Baked Chicken)
Pollo Asado (Mojo Baked Chicken) is great with mashed potatoes and corn, but you can also serve it with the more conventional sides - white or yellow rice. Easy to make and can definitely be a great weekday meal.
Ingredients
Mojo
8 cloves Garlic, mashed
½ cup Onion, chopped
1 tsp Salt
1 tsp Black Pepper, ground
½ tsp Oregano, dried
½ tsp Basil, dried
½ tsp Paprika, ground
½ tsp Cumin, ground
¾ cup Badia Sour Orange Juice (If you can't get sour orange juice in your area, use ¼ cup orange, ¼ cup lemon and ¼ cup lime)
¼ cup Dry Sherry or Vino Seco
¼ cup Olive Oil
Chicken
1 large Roasting Chicken, cut up or you can use 4 legs & 4 thighs if you prefer
Instructions
Mojo
Mash the garlic, salt, and pepper together with a mortar and pestle.
In a mixing bowl, add the garlic/salt/pepper mixture, oregano, basil, paprika, cumin, onion, sour orange, sherry & olive oil to make a mash -- mix thoroughly.
Set aside till ready to use.
Marinate chicken
Place the chicken in a large seal-able bag; pour the marinade over the chicken and shake to assure an even coating.
Refrigerate 2 - 3 hours.
Bake chicken
Preheat an oven to 375 degrees F.
Arrange the marinated chicken in a roasting pan and include the mojo.
Bake the chicken until no longer pink at the bone and the juices run clear, about for 45 to 50 minutes.
Occasionally, baste chicken using drippings in the pan.
When chicken reaches 180 degrees F, take out of oven and let rest 5 minutes.
Serve with your favorite sides and crusty bread.
Notes
To check doneness, insert an instant-read thermometer into the thigh, avoiding the bone. It should read 180°F when the chicken is done.

Inspired by flavors I grew up with and my love for baked chicken.

Last edited: 2/6/2022
More Pollo Asado (Mojo Baked Chicken) Pics